Forty-six people were taken to hospital after a carbon monoxide leak at a Winnipeg hotel. Fifteen of them were considered to be in critical condition.
City of Winnipeg Fire Paramedic Chief John Lane said the call came in at 10:19 a.m. Tuesday and forced the evacuation of 52 hotel guests, staff and one dog from the Super 8 hotel at 3760 Portage Ave.
WATCH: People impacted by Winnipeg hotel carbon monoxide leak out of danger
Five of those taken to hospital are in unstable condition, and 26 people are in stable condition, said Lane.

READ MORE:
What you need to know about carbon monoxide poisoning

"None of the patients were requiring resuscitation, none were intubated …. their carbon monoxide levels were such that they were in the critical category," said Lane.
Despite being listed in critical condition, no victims were expected to die, said Steve Brglez, acting platoon chief.
WATCH: Dozens sent to hospital after carbon monoxide leak at Winnipeg hotel
"We don't expect any fatalities from this."
Brglez added that he expected some of the patients to be released from hospitals within a few hours while others might be held overnight.
The concentration of CO in the air is measured in parts per million (ppm).
The highest carbon monoxide reading found in the hotel was 385 ppm. Symptoms become noticeable at 70 ppm.
Winnipeg Firefighters union president Alex Forrest said local firefighters were "absolutely in shock.
"They realized that extreme levels of carbon monoxide and their quick actions likely saved a lot of lives … This is the one of the worst incidents that we've ever had in carbon monoxide for the Winnipeg Fire Department."
WATCH: Carbon monoxide poisons 46 people at Winnipeg hotel
First responders found more people inside the hotel after they put their masks on to search, said Forrest, noting they originally thought there were only about a dozen people who needed to go to hospital.
"Almost every other city in Canada … does not have paramedics riding on those fire trucks and that fact, that simple fact alone, likely saved lives today."
Winnipeg Animal Services was there to provide care for the dog. The dog was not seriously hurt and is doing fine.
The hotel's owner, Justin Schinkel, said something of this magnitude has never happened at the hotel before.
WATCH: Guest at Winnipeg hotel speaks about feeling ill during carbon monoxide leak
"It's the worst imaginable feeling, all of a sudden… when something bad like this happens and you don't know the extent of it. We're just super happy that the first responders are so helpful and they've been able to get here so quick and help us out here," said Schinkel.
Sergiy Bolshakov was watching TV in his hotel room when a firefighter knocked on the door and told him the building was being evacuated.
The Toronto man quickly realized he wasn't feeling well.
"I felt very dizzy and had a headache," said Bolshakov.
WATCH: Family set to stay at Winnipeg hotel that experienced carbon monoxide leak say they were not notified
Bolshakov was released within a few hours.
"They did all the tests necessary and we were good to go," he said.
Quinton Tomalin, who works at the Winnipeg Auto Gallery across the street from the Super 8, said it seemed as though those in the worst condition were brought out of the building first.
"We saw the first guy come out, he was a younger gentleman. They put him on a stretcher and he was vomiting quite bad," he said.
"A couple other people who were in pretty rough shape were brought out and put on stretchers immediately."
WATCH: 46 people treated for carbon monoxide exposure following an incident at a Super 8 motel in Winnipeg, MB. 
The Winnipeg Regional Health Authority confirmed Tuesday evening that there were no fatalities nor people needing intensive care.
"The vast majority of the patients have already been discharged," said a spokesperson for the WRHA. "The remaining patients are being treated and monitored. No patients have been admitted to hospital at this time."
There will likely be no further updates on patient health, the spokesperson added.
WATCH: Premier Brian Pallister on the carbon monoxide leak
Premier Brian Pallister, who was in Saskatoon for the Western Premiers meeting, said he was shocked about what happened and thanked emergency responders.
"I'm thinking of the friends and families of those who have been poisoned," said Pallister. "Hopefully we see people on the road to recovery very quickly.
"In my recollection … this is unheard of."
A hotel guest spoke to Global News after he left the ER at St. Boniface Hospital, saying he was too shaken to speak on camera. The man, who was one of the 15 taken in "critical condition," said he was taken to hospital as a precaution after his levels were registered "much higher than most."
His wife and child were sent to Seven Oaks General Hospital.
WATCH: Signs you may have been exposed to carbon monoxide
Witness Steve Williams said he was driving home and said he saw about 20 people coming out of the hotel with emergency personnel to be treated.
"I think they weren't feeling too well … some were on stretchers, some were walking," said Williams.
"I've never seen so many cars, ambulances and police officers around here … you don't see that every day."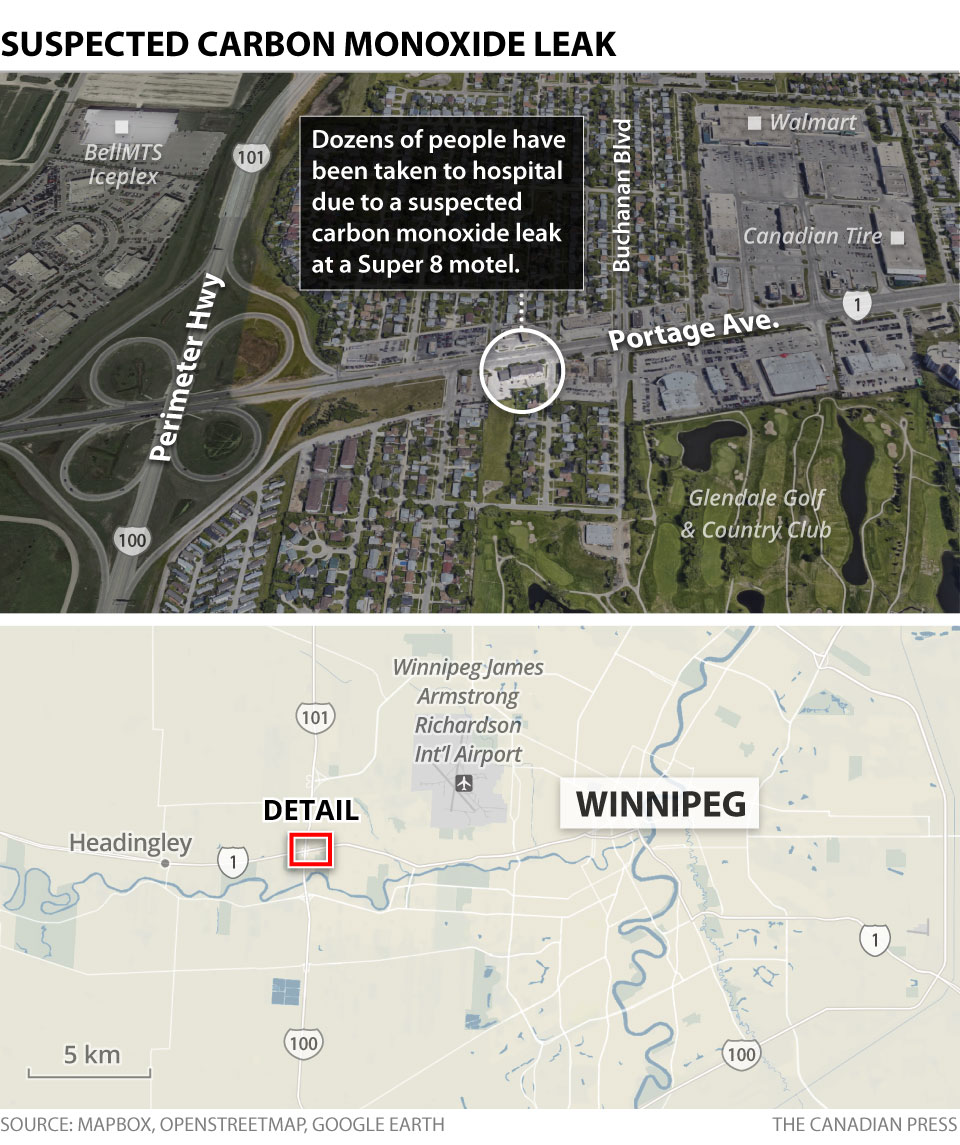 Manitoba's Office of the Fire Commissioner said their staff were on site.
Changes were made in 2011 to strengthen building codes surrounding carbon monoxide detectors in buildings, they said.
"A CO alarm/detector be installed in all buildings that are required to have a fire safety inspection by regulation and where there is potential for the risk for CO infiltration," they said in a statement sent to Global News.
"These buildings include hospitals, personal care homes, elderly persons housing, licensed beverage rooms, hotel or motels, restaurants with living quarters, schools, daycares and other assembly occupancies."
A local hotel said they would be willing to help some of the victims by offering them a free room for the night.
WATCH: Global News reporter Brittany Greenslade on the carbon monoxide leak
-With files from Hannah Jackson and the Canadian Press
© 2019 Global News, a division of Corus Entertainment Inc.